Our new director is Sue Brennan. Sue comes to us with eighteen years in education, with the last eight years in adult education.  Her mission is to grow the program through outreach to the communities we serve.  
One area of new growth involves building the MCCA program, which stands for Maine College and Career Access.  The college and career programming provides direction, career interest assessments, support, academic instruction and information to residents and high school seniors who are thinking about college or looking for their "best fit" career. All academic and MCCA services are free of charge.
A second area of growth involves becoming an integral part of our program's "Hub" 7, which is made up of all the adult education programs in the Mid-Coast.  Working together, this alliance opens the door to all residents of the Mid-Coast area, who now have access to all the programming that each individual adult education location has to offer.
Email: sbrennan@rsu3.org
Work Phone:  207-568-3426  ex. 1802
Cell Phone:  207-441-2211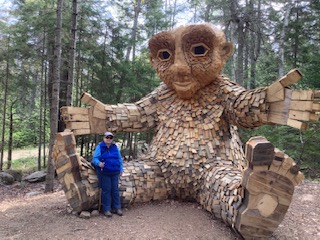 Deborah Avalone-King has been teaching Adult Education in RSU #3 since 2012, after retiring from 30 years of service in public outreach and education for the Maine DEP Bureau of Air Quality.  
Deb teaches Intro to Biology, Environmental Science and the HiSet high school equivalency program courses.  These online courses are designed to prepare students for college and career readiness.
During her career as an Environmental Specialist/Educator Deb earned an MEd in Science Education from UMaine and worked with teachers across the state to integrate environmental science enrichment experiences into their school curricula.  Deb coordinated a wide variety of Outreach projects that included Teacher training projects and conferences, as well as Environmental Internship programs where HS and College students gained personal experiences working with community organizations.  Deb has been   recognized for her contributions to Maine environmental Education by the Maine Science Teachers Association, The Environmental Protection Agency and the Maine Chapter of the Sierra Club.
Deb worked extensively with the Maine Energy Education program creating the Maine Green Schools Project engaging high school students in energy efficiency projects in their schools and with other environmental education groups delivering classroom presentations across the state.  This work included 18 years collaboration with the AmeriCorp program training and supervising young college graduates who served our program as visiting classroom educators.  While certified to teach adult Ed life science courses, she has also taught conservation-related classes as an adjunct for Unity College during the last decade.
She has lived in Waldo County for 38 years and is committed to helping young adults in our communities' to improve their possibilities for success in work and college.
Ellen is our Administrative Assistant. She has worked 8 years as an elementary literacy educator and more than a decade in Summer Camping ministry as a camp counselor, counselor training instructor and later as Program Director. She is passionate about educational opportunities and seeing students young and old find success in what brings them joy. 
Ellen enjoys gardening, reading and spending time exploring the Maine outdoors with her husband and their two dogs. She is an avid musician, playing and singing with ensembles around Maine and leading Worship at her church. 
Email: ecurtis@rsu3.org
Phone: 207-568-3426  ex. 1801